March 4, 2022 Please see our Health Office page on the website for updated COVID-19 guidance.

March 1, 2022 Good Evening, As previously communicated, Governor Kathy Hochul has lifted the mask mandate in schools effective tomorrow, March 2nd. While the removal of the state's mask mandate has been anticipated based on several fundamental changes by the CDC and new local TCDOH community metrics, we recognize this will be a transition period for all of us. Beginning tomorrow, Trumansburg CSD will make masks optional, a personal/family choice inside, outside, and on the bus. It is very important that we work together to ensure every student and staff member is treated with kindness and respect for their personal choice to wear or not wear a mask. Our staff will reinforce the message with our student body that we are a courteous and respectful school community. This evening, NYS Department of Health released additional school guidance. The document continues many protocols and mitigation measures already in place. We fully recognize the importance of community health; therefore, we will continue to offer PCR testing via school nurses for children who become symptomatic during the school day. Physical distancing, frequent hand washing, and the availability of free masks and rapid tests will remain in place. The administrative team will be meeting tomorrow a.m. to review the guidance and share any updates to our protocols in the coming days. We will continue to monitor and collaborate with regional educational leadership, TCDOH, NYSDOH, and NYS Department of Education for any changes to COVID-19 school protocols. Thank you for your ongoing support and cooperation. Respectfully, Kimberly Bell Superintendent TCSD

COVID-19 UPDATE: Tompkins County Mask Advisory Suspended, NYS School Mask Mandate Ends 3/2 Good Afternoon, As you are aware, Governor Kathy Hochul announced an end to school mask requirements, effective March 2. Today, the NYS Education Department is working on draft guidance for school districts which we anticipate release this evening or tomorrow. Just this afternoon, Tompkins County Health Department suspended the school mask mandate effective March 2. See the press release at the bottom of this communication. How does this impact our student and employee population at TCSD? We are obligated to follow the guidance of our regulators, i.e., the State Department of Education, State Department of Health, and County Department of Health. We will continue to keep social distancing in place however; masking will be a personal choice effective March 2 for both students and staff. The CDC's Guidance on Friday states, "Effective February 25, 2022, CDC does not require wearing masks on buses or vans operated by public or private school systems, including early care and education/child care programs." It is important to note that wearing masks on school buses was not state action but rather required by a CDC order. Please watch for additional communications in the coming days as we receive specifics from our governing entities. Should you need special accommodations due to this change please reach out to your building administrator as it is our desire to protect the health and well being of all our students and employees. We will do our best to meet the needs within our realm of resources. (Our website will reflect updates following communications received tomorrow and Wednesday from the governing authorities). Thank you for your continued support as we navigate this unchartered water. Kindly, Kimberly Kimberly Bell TCSD Superintendent of Schools 100 Whig Street, Trumansburg, NY 14886 P: 607-387-7551, ext. 4421 | F: 607-387-2880
kbell@tburg.k12.ny.us
From: Samantha Hillson
Date: February 28, 2022 at 12:03:32 PM EST To: Samantha Hillson Subject: COVID-19 Update: Tompkins County Mask Advisory Suspended 2/28, NYS School Mask Mandate Ends 3/2 TOMPKINS COUNTY HEALTH DEPARTMENT Frank Kruppa – Public Health Director FOR IMMEDIATE RELEASE February 28, 2022 For media inquiries: Samantha Hillson, 607-274-6714, shillson@tompkins-co.org Dominick Recckio, drecckio@tompkins-co.org COVID-19 Update: Tompkins County Mask Advisory Suspended 2/28, NYS School Mask Mandate Ends 3/2 (Ithaca, N.Y., February 28, 2022) -- The Tompkins County Health Department is suspending the local mask advisory as the spread of COVID-19 and active COVID-19 hospital admissions have slowed. The advisory previously recommended that in Tompkins County all individuals wear a mask when in public indoor spaces regardless of vaccination status. According to the metrics recently released by the CDC regarding "community levels," Tompkins County has fallen into the "Low" category based on the following data: fewer than 200 new cases per 100,000 people over the past seven days, less than ten new COVID-19 admissions per 100,000 people at Cayuga Medical Center, and lower than 10 percent of staffed inpatient beds at the hospital occupied by COVID-19 patients. In New York State, masks are still required in the following settings: All health care settings regulated by the Department of Health and other related state agencies will continue to require masks. This includes Cayuga Medical Center and Cayuga Medical Associates practices. Nursing homes Adult care facilities Correctional facilities Detention centers Homeless shelters and domestic violence shelters Public transit and transportation hubs, as well as trains, planes and airports in accordance with federal regulations. New York State is ending its mask mandate in schools and childcare facilities on March 2 citing a decrease in positive cases and hospitalizations, an increase in vaccination rates, and a low rate of pediatric hospitalizations across the State. Self-tests have been distributed to families for students to use before return from winter break. TCHD expects that the State Department of Health will release further recommendations for schools this week. At any level of COVID-19 spread, people can choose to wear a mask based on personal preference informed by personal level of risk. Masks continue to be a highly effective tool in stopping the spread of COVID-19. Masks are recommended to be worn if you are around people who are ill, who may not be vaccinated against COVID-19, or with those who are at higher risk of severe illness. TCHD also recommends masks be worn by immunocompromised individuals and seniors who are at higher risk of severe illness from the virus. Tompkins County Public Health Director Frank Kruppa stated, "We're in a place where we are seeing very little spread and severe disease locally and around the state. While we are suspending our mask advisory and no longer requiring that masks be worn in schools, you may still choose to wear a mask to protect yourself or others – masks are one of the best tools to stop the disease from spreading." Kruppa continued, "Our local schools have been great partners throughout this pandemic, working diligently to stop the spread and keeping our students healthy and safe. While we're moving forward with new guidance it's important to continue to stay vigilant and we are encouraging everyone who is eligible to stay up-to-date on vaccination." Tompkins County is making high-quality KN95 masks freely available to the community. Please refer to the TCHD website or call 2-1-1 for information on where these masks are available. Everyone eligible is encouraged to stay up to date on vaccinations and get tested if sick. For more information on COVID-19 vaccinations, refer to the TCHD website. The Tompkins County Health Department is your partner for a healthy community. Find us online at www2.TompkinsCountyNY.gov/health, and follow us on Facebook at Facebook.com/TompkinsPublicHealth and on Twitter at @TompkinsHealth. Sign up to receive COVID-19 updates or other county announcements via email or text. -end- Samantha Hillson, MPH Director of Health Promotion Public Information Officer Tompkins County Health Department 607-274-6714

2/28/22 Health and Safety Update Good Morning, I am writing to inform you that the health and safety concern from last evening has been addressed by the local police department and appears to be a student-to-student social media concern. You may have noticed the presence of our local authorities this a.m., who were on campus to resolve the conflict further. Thank you for your patience and support; I apologize for the distress this may have caused you and your family. As always, we take all safety concerns seriously. Best, Kimberly Bell Superintendent TCSD

2/27/22 UPDATE- NO 2 HOUR DELAY 2/28/22 The local Police have deemed that a two-hour delay is no longer necessary for Monday 2/28/22. We appreciate your patience and understanding, as it is always important to proceed with the utmost precaution when dealing with the health and safety of our school community. Best, Kimberly

Good Evening, I hope you all had a restful February break. As we prepare to return to campus tomorrow, it is important to acknowledge the governor's announcement ending the statewide mask mandate for schools, effective Wednesday, March 2. The governor stipulated counties and cities will still have the authority to require masks in schools after the statewide order expires. Local educational leaders will meet on Monday, February 28, to discuss the change and the many factors that will impact a recommendation for change in our schools. Please watch for additional communications tomorrow. Kind regards, Kimberly Bell Superintendent TCSD
02/18/22 - Trumansburg Central School District will be operating on a two hour delay
Please check your email from the District for an important survey regarding stakehold input and masking.
NOTICE OF CALENDAR CHANGE! This evening the Trumansburg Board of Education approved a modification to the 2021-2022 Calendar changing Friday, April 8th to an Early Student Dismissal Safety Drill. All students in Grades PreK through 12 will be dismissed at 1:30pm on Friday, April 8th. Please mark your calendars!
02/04/22: Please be advised that the JV/Varsity Boys Basketball game that was scheduled for this evening at Lansing High School has been canceled. The Athletic webpage will be updated and teams will be notified should this game be rescheduled.
Due to predicted weather conditions, Trumansburg School District will be closed and there will be no remote instruction tomorrow, February 4, 2022. Please spread the word, as our robocall is not working!
02/03/22 - Due to current and pending weather conditions, all after school activities, clubs, athletic practices and events have been canceled, and all students will be dismissed at 2:45 p.m.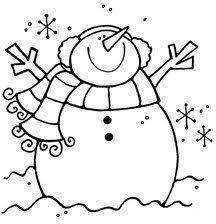 Message from NYSED 01/28/22: Earlier this week, the Appellate Division, Second Department issued a stay order which upheld the Department of Health's mask requirement in schools (10 NYCRR 2.60). Although the court set a hearing deadline for today, the State Education Department has confirmed that this deadline pertained only to written submissions. SED anticipates that the court will issue a further ruling in the coming weeks. Until such time, the mask rule remains in effect. School districts must also abide by any commitment to mask wearing contained in their publicly posted reopening plans for the 2021-2022 school year.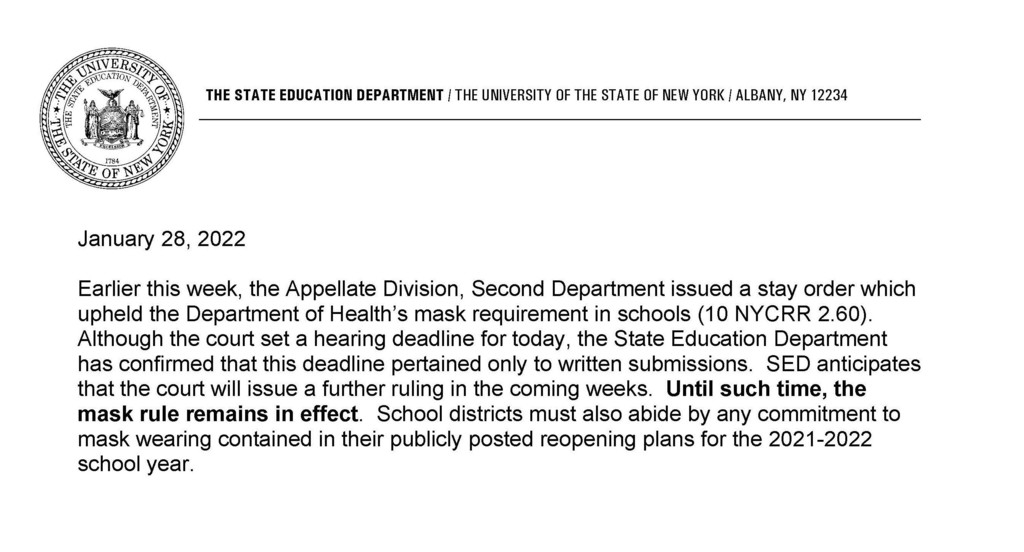 REMINDER: Monday, January 31st is an asynchronous ½ day of instruction and students in PreK through Grade 12 will not report to campus. Students will be receiving expectations for January 31st from their classroom teachers.

Dear Community, The Attorney General has announced that the Second Department, Appellate Division has enjoined order issued last night by Nassau County Supreme Court. This means that the NYS Department of Health's masking regulation is still in effect until further notice. Best, Kimberly Kimberly Bell TCSD Superintendent of Schools

January 25, 2022 Dear Families, Our cumulative COVID-19 positive cases as reported from PCR or lab tested results for the period 1/12/22-1/24/22 are as follows: Total District Wide- 41 students and 8 personnel members. Elementary School -23 students; 0 adults/Middle School – 13students ; 6 adults/High School – 5 students; 2 adults Be well, Kimberly Bell TCSD Superintendent of Schools
January 25, 2022 Dear Families and Staff, As you are likely aware, Nassau County Supreme Court ruled that the NYS Department of Health exceeded its authority in enacting the mask regulation, 10 NYCRR 2.60, in Demetriou et al. v. New York State Dep't of Health et al. This regulation is the subject of conflicting decisions, insofar as Albany County Supreme Court recently upheld the regulation in Massapequa UFSD et al. v. Hochul, et al. Our understanding from the State Education Department is the State of New York shall seek an appeal of the decision and seek a stay regarding the enforcement of the same. As a result, the State Education Department has stated that schools are required to continue to require the use of masks pending the final adjudication of the litigation. Accordingly, Trumansburg Central School District shall continue to require all students and staff to wear masks for the health and safety of our community and in accordance with the recommendation of the New York State Education Department and County Departments of Health and Center for Disease Control. We will continue to work with legal counsel to ascertain the implications of this litigation and any appeals for our District. Kindly, Kimberly Bell TCSD Superintendent of Schools
Vaccine Clinic Trumansburg First Dose 1/27 Children 5-11 Years Old @ Trumansburg Elementary School Date: January 27, 2022 Time: 03:30 PM - 05:30 PM Registration Deadline: January 27, 2022 Who May Attend: Children 5-11 Years Old Public Notes: Pfizer Clinic First Dose Children 5-11 Only Please Bring the following: • Parent/ Guardian confirming Minor's identity • Anyone under 18 must have Parent/Guardian consent Expect to wait 15 minutes for observation after your injection. Please do not arrive more than 30 minutes early for your appointment. Second dose appointment will be automatically scheduled for the same time on 2/17/22. Link to schedule an appointment:
https://apps2.health.ny.gov/doh2/applinks/cdmspr/2/dates